See on Scoop.it – Awakenings: America & Beyond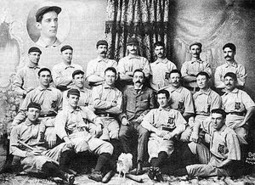 Baseball! Definitely all American…the first of the American Classics! History is filled with pages upon pages of stories about the GREATS who fulfilled their destiny in the sports arenas of baseball. George 'Babe' Ruth, Hank Aaron, Lou Gehrig, Willie Mays, Jackie Robinson are just a few names that readily come to mind.
Sharla Shults's insight:
Thank you, Marilyn @Serendipity for reminding me of probably the most famous comedy bit of all time!  Per Marilyn, "Abbot and Costello at their funniest. They run this at the Baseball Hall of Fame in Cooperstown on a continuous loop. It's that good."
See the video on awakenings2012.blogspot.com
Go NOW! It is your dose of catnip for the day…smile, laugh, just remember the good ol' days!
---