See on Scoop.it – Sizzlin' News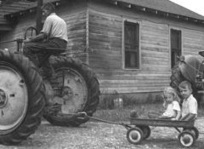 To All The Kids Who Survived
the 1940's, 50's, 60's and 70's!!
Share this with others who have had the luck to grow up as kids before the lawyers and the government regulated so much of our lives for our own good. While you are at it, forward it to your kids, so they will know how brave and lucky their parents were.
Here is a teaser:
We would spend hours building our go-carts out of scraps and then ride down the hill only to find out we forgot the brakes. After running into the bushes a few times, we learned how to solve the problem. Ingenious!
MORE @ http://awakenings2012.blogspot.com/2013/12/we-survived.html
Sharla Shults's insight:
Includes special poetry from Remembering…
See on awakenings2012.blogspot.com
---
2 responses to "
Awakenings: We Survived!

"