See on Scoop.it – Awakenings: America & Beyond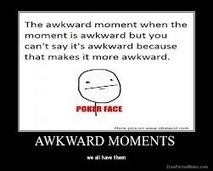 Have you ever found yourself in a totally awkward, meaning AWKWARD!, moment—that moment when 'you wished you could wish' yourself back in time?  Wiggle your nose and vanish to a new location, new place in time? Blink your eyes and the entire event simply disappear in a flash? Such moments happen all the time usually when completely unexpected to some folks, of course, more than others.
Today you get to celebrate all of those moments you once wished at the time the ground would simply open up and swallow them to oblivion. Why? Because…
Today is…National Awkward Moments Day
Sharla Shults's insight:
Dare to share? There IS a comment section! What is your most awkward moment?
For me, it has to be when I was still a classroom teacher. It was on a day, of course, when the Assistant Principal entered my room for an unannounced observation. He quietly took a seat and almost fell out of the chair when I calmly instructed the students to take out their 'workshits!' OOPS! I meant to say worksheets! AW-w-w-wKWARD! 
See on awakenings2012.blogspot.com
---
3 responses to "
Awakenings: Awkward Moments

"