See on Scoop.it – Awakenings: America & Beyond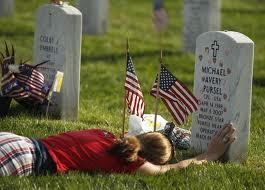 Gary Sinise Honors Veterans at National Memorial Day Concert
Jeannette Anderson, writer/blogger, posted a marvelous video today on Google+. Upon watching the video there was no doubt it should be aired on Awakenings. Tomorrow is Memorial Day but first, it is important to understand Memorial Day vs. Veterans' Day.
"Many people confuse Memorial Day and Veterans Day. Memorial Day is a day for remembering and honoring military personnel who died in the service of their country, particularly those who died in battle or as a result of wounds sustained in battle. While those who died are also remembered on Veterans Day, Veterans Day is the day set aside to thank and honor ALL those who served honorably in the military – in wartime or peacetime. In fact, Veterans Day is largely intended to thank LIVING veterans for their service, to acknowledge that their contributions to our national security are appreciated, and to underscore the fact that all those who served – not only those who died – have sacrificed and done their duty…"
WATCH THE VIDEO @AWAKENINGS: http://awakenings2012.blogspot.com/2013/05/honoring-americas-heroes.html
Sharla Shults's insight:
Display the American flag proudly for our fallen heroes! That is the least one can do on Memorial Day!
See on awakenings2012.blogspot.com