HAPPY ST. PATRICK'S DAY!
See on Scoop.it – Awakenings: America & Beyond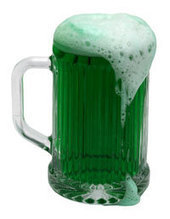 Author Spotlight: R. L. Cherry
St. Patrick's Day, originally a feast day of the Catholic church, has become a major American drunken  celebration. Before I get into the down and dirty, let me assure you that St. Patrick never drank green beer. In fact, drinkers in ancient Ireland had a choice of ale (no hops) or mead (honey based), unless they wanted to pony up for imported wine. So beer is obviously not an ancient Irish tradition. How about the color green? Is it Irish because Ireland is called the Emerald Isle? This is a question that is still up for debate.
Sharla Shults's insight:
Love all the tidbits of history that I absolutely did NOT know! You, too, may find yourself quite surprised!
See on www.awakenings2012.blogspot.com
---