See on Scoop.it – Awakenings: America & Beyond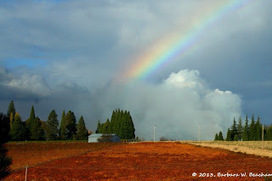 All across America, the world in fact, is indescribable beauty often referred to as visions of grandeur. Each day presents itself in living color with sights, sounds, even smells that tempt and tease innermost emotions. Skies may be crystal blue and cloudless, or dark and dreary with hints of an impending storm. Even within the storm lies beauty…a calm at the end of which one may be lucky enough to sight a rainbow.
What awakens your senses of a forthcoming rainbow? Is it the sight of cloudy skies, the smell of oncoming rain, or the sound of raindrops pelting the earth? Perhaps lightening pierces the haziness of morning and rolling thunder disturbs the short-lived stillness of the air with news a storm is approaching.
Each sense brings on anticipation of sighting that well-known arc across the sky whose splendor boasts a colorful array of pastel hues. Have you ever taken the time to count how many colors you see in a rainbow? Is there a set number or a continuous innumerable spectrum of colors? Speaking of colors, what about Roy G. Biv…ever heard of (him)? Are the colors the same for every rainbow that comes into view?
Sharla Shults's insight:
"May each rainbow sparkle with colors of strength, joy, sunshine, harmony, faith, wisdom and spirituality." ~SLS
Visit Awakenings to embrace the past, pick up nuggets about the rainbow and enjoy the poetry The Rainbow.
See on awakenings2012.blogspot.com
---
4 responses to "
Awakenings: Rainbows and Raindrops

"