See on Scoop.it – Awakenings: America & Beyond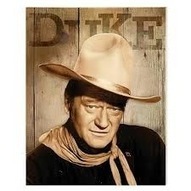 This Day in History: June 11, 1979
Anytime we hear of the passing of a legend, each of us say goodbye in a personal way. If you are of the age to have grown up during the era of the Westerns, you felt like you KNEW every cowboy. Of course, the knowing may not have been personal but simply a matter of heart, mind and soul. You lived each scene imaginatively!
Today we step back in time to saying goodbye to one of, if not the, greatest of all cowboys. On June 11, 1979, Marion Robert Morrison died after battling cancer for over a decade. Who? Marion Morrison? Never heard of him. Sure you have. You just only knew him by his stage name, John Wayne.
Sharla Shults's insight:
From Western Star to Action Hero to American Icon! That is the legacy of John Wayne, aka The Duke. Wayne possessed a unique American screen persona and loved his country, America, as much if not more than anyone possibly could! Behind the man is a great legend…a legend laced with true grit!
See on awakenings2012.blogspot.com
---
3 responses to "
Awakenings: From Western Star to Action Hero to American Icon!

"