See on Scoop.it – Awakenings: America & Beyond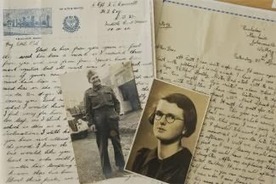 Today we don't think much about writing or receiving hand-written letters. Each seems to be a framed image of the past stored away in our mental scrapbooks. Nowadays communication comes too easy with the push screens of a cell phone and the strokes of a computer keyboard. The words may be the same, sentiments may still be expressed, but what's missing is the intimate touch of pen to paper.
Sharla Shults's insight:
Watch the video with thoughts first only of a person sitting in a military camp, dim to no lighting, possibly cold and damp, maybe in a trench, fear and terrors of war as the backdrop with a parchment of paper and meager pen in hand. Listen to the lettered words and the emotion felt upon writing and reading a hand-written letter. It is not until later in the video where the mode of communication shifts from postal letters to video and telephone. Yet the letter is still an intricate, important part.
See on awakenings2012.blogspot.com