See on Scoop.it – Awakenings: America & Beyond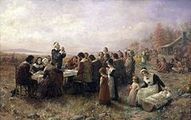 With Thanksgiving comes a special time to embrace the past. The feast of which we are most familiar took place when the Pilgrims arrived and the Wampanoag Indians gathered in Plymouth, Massachusetts in 1621. This was a time of autumn celebration and that's right, it took place in the 17th century!
Within the history of Thanksgiving lies nuggets of trivia that nudge at the heart and tickle the funny bone.
Did you know…
Sharla Shults's insight:
Popcorn is prevalent today as one of America's favorite snacks but the question is . . .Did Pilgrims Eat Popcorn?
Check it out @Awakenings…
See on awakenings2012.blogspot.com